Name – Dr.???? Atrium
Class - Shadow
Sub-Class - Understanding
Age - 25
Gender - Male
Profession - Doctor
Social - 2
Combat - 4
Stealth - 4
Arcana - 6
Endurance - 4
Agility - 4
Speed - 7
Accuracy - 8

Load-out
Dr. Atrium keeps a number of scalpels of different sizes, the biggest one he has was made special by an old friend. The width of it is the same of a normal bagger, and it is the length of his forearm.  He keeps three syringes on him.  He has a light brown shoulder bag were he keeps is a number of books. He has a few runes that he has found.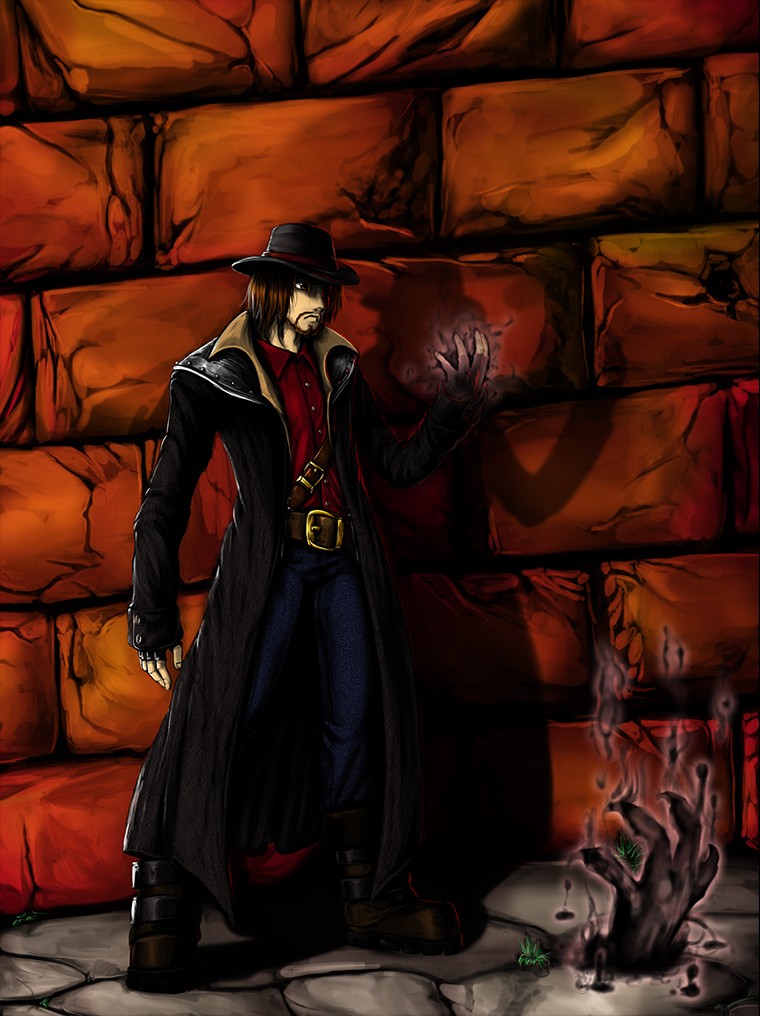 Appearance
Dr. Atrium wears an renaissance doctors jacket that he found in his travels. Under his coat he wears a dark red button up shirt and dark blue jeans. He wears a belt that he got made to hold syringes, witch are all made of glass so they can be cleaned and reused and his many scalpels. He also wears an old black fedora hat. He keeps a shoulder bag with him where he keeps his books that he found over is travels. He has books ranging from medical to magic to better himself in the medical field, he will will normally have a book in hand. He has brown eyes but during a full moon, they turn silver and he has dark brown hair.

Positive Traits
+Very fast learner.
+Takes a lot to get under his skin.
+Tends to be helpful to people no matter who or what they are.
Negative Traits
-Too trusting
-Secretive
-Too Curious

Background Story
From a very young age, Atrium loved to help people and always had a fascination with the moon. He came from a family of metal workers. They were unhappy with him when they found out he had no interested in the job that his family has been doing for years. When he reached the age of eight, he found his first book about magic. I told him about the moon and found out that the years of obsessing, with the moon was because he was tied to it. It went on to tell him how he could test himself if to see if he could use the moon for magic. It was a simple task, in the next full moon, is he put his hand out and concentrated on his palm, he would be able to make a ball of the moons light. After a week of waiting and practicing on how he would make light, the time came. He stood out in an empty field and did as the book said. At first, nothing happened, he felt like a fool. He got angry and stomped around and threw is hands in the air and screamed and that is when it happened, both his hands started glowing bright white, they were warm and it felt more alive than he ever did. That was also the night when his father found out about his gift as well. He has heard his scream and thought he was in trouble, but what he found scared him. He punched him in the face and when Atrium fell to the ground, he loomed over him. His father had a panicked look on his face, the man was afraid of what he saw.
"Where did I go wrong?" his father started asking. "We did everything by the book so this shouldn't of happened!" His fathers voice started getting more and more heated. "How could you know magic?! We killed off all who knew it!"
His father started pasing then.
"No one must know. If the village or any one from the family finds out, we will be dead..."
His father then glared at him.
"You're dead. That's right, you died tonight. I am not sure yet what killed you, but you are dead to us you hear?! NOW GET LOST YOU FREAK!"
His father then started walking home, leaving the young boy.
Years went by of him wondering the world and traveling he got better at his magic and found a way to use the moon to help cure injures and some sicknesses. Atrium has been to many ruins to find books about how he can become a better doctor and better with his magic. He had to do many thing he will not talk about. He has learned to use is magic to move around without making a sound and able to turn invisible. He now goes to town to town helping those in need.

Social Standing
Jian Manchu - Friends
"The boy seems to have a low standing on himself and is scared a lot. He is a good friend, I just wish he would cheer up a bit."
Airgetlam Whyte - Friends
"She is a very funny and some what childish girl. He likes that she has tried to help him with his magic."
Sharpe - Close Friend
"He is a man that has his back. I know I can go to Sharpe at any time to ask for some advice. I trust him a lot do to him know things about me that others don't. I would do anything for Sharpe."
Jack Sampson - Neutral
"Not really sure how I feel about Jack. He seems to be a bit head strong and thinks that he is very important. His knowledge on technology is very useful."
Hiomi - Daughter
"She seem to like me the most witch I am ok with. I have grown very attached to her. She love her as though she was my daughter."
Maigoyume - Neutral
"I never got to talk to this man much. I was told that he helped Airgetlam out a lot so he is ok in my book. Wish I got to know him before he just took off."
Ayame - Neutral
"She seems to be very attached to Jian. I haven't gotten the chance to know her but she helped Airgetlam a lot so she is ok with me."
Marcus Brigeutant - Hated
"I am glad this man is dead. There is nothing more to be said."
Lady Dahaka - Sad/Guilty
"She was a woman who was wronged by the arrogance of man and trapped in world outside of our own. All she wanted to do is leave and finally live her life. I wish I could of found a way for her to do so with out having to posses anyone. I will keep the Soultrap she is in very close to me so she can see the world. I just hope she doesn't hate me..."

Items
2 Lunar charms both revised in the basement of Solis et Umbra
1 Shoulder magic shoulder bag given to him by Parlous
3 Black daggers stolen from the walls of Castle Vikuur
1 Silver hammer given to him by Maxwell
1 Soultrap taken from Clarent