Hello and welcome everyone to the results of the June 2014 Art Contest!
As featured on Kitsunetsukiko RP via Steam
I'm happy to announce the closure of our first event so far!
The objective was to draw a character, object, or scene related to the RP by yourself and submit it within a weeks time and you all have been sending in great submissions!
Here's a recap of the prizes as written down on the steam group page;
Shinonome via Steam wrote:There top 3 winners will recieve rewards on the forum!
1st Place - 3 Gold for your character, a custom Title, their own personal Protraction Weave, and a side quest they get to GM all by themselves!
2nd Place - 2 Gold for your character, a custom Title, their own personal Protraction Weave
3rd Place - 1 Gold for your character, and a custom Title!
As well, the consulation price for participants is 70 silver.
The submissions were really awesome and a lot of them have had a lot of work put into them! I've sat down with 3 others to decide on which images were going to be coming in what orders. So I won't waste any more of your time and show you the top winners, starting with;
- - 3rd Place winner - -
dthvader playing as Jack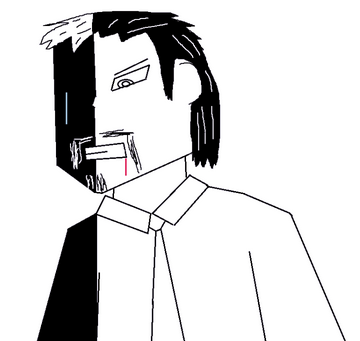 A really great piece of Jack, only barely ahead of Jian's image. Great job. The interesting thing on this one is the play on light, how the shadows seem to represent his actual identity. Personally I've really liked this one, and the other judges agree. As the third place winner, you will be getting a custom title on the forum and 1 gold for your character. The title and name colour you may choose yourself and send it to me via steam or forum PM.
- - 2nd Place winner - -
BlakeAviat playing as Sharpe

This piece has a lot of detail and the shading is quite nicely done. Because of this attention to detail this image has recieved second place. Everyone agrees that the detail and work put into this is great and very deserving of its place on the top three. As the second place winner, you will be getting a custom title on the forum, 2 gold for your character and you get to design your own protraction weave with me. The title name and colour you can choose for yourself and discuss with me via Steam or forum PM.
- - - First Place Winner - - -
Dr.Atrium playing as... Dr.Atrium!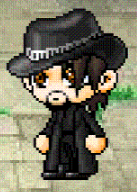 First off, this image doesn't even begin to show off the amazing gif animation the doctor has made for us. This part, taken from its larger original, was sadly entirely to big to be uploaded, though the doc has said he will be uploading a video (or something) to show off the full thing. The sheer amount of detail and frames, the showcase and everything about it from its presentation aswell as the time put into it- This piece is simply amazing and well done. A very very well deserved first place win for Dr.Atrium. Congratulations!!
As the first place winner, you will recieve as all the rest, 3 gold, your own title, and your own protraction weave. Ontop of this you may direct an alternate sidestory all by yourself with all the characters included. All the details you can discuss with me via Steam or PM whenever available.
And with that we have the winners for June 2014! We all really liked the submissions and hope to have an event like this in the future. Great and wonderful job everyone.
The images can be reviewed in the comments of the original post down below;
http://steamcommunity.com/groups/kitsunetsukikoRP/discussions/0/522730075453503278/