Atsuko is standing in the prep room, watching the match unfold through a window. The arena is not large but big enough to be able to run and jump freely. The center of the arena is dominated by a hole, the depth of which cannot be seen from the room, and there are 5 pillars standing around the arena in various places.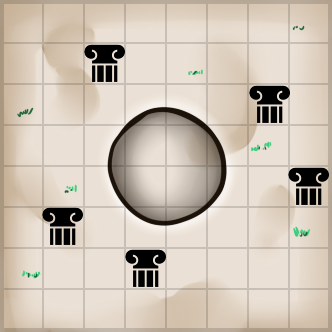 Two men,fairly equal in skill, are fighting against one another and the crowd cheers them on as they throw punches and kicks back and forth.
Finally one of the two men drops low to the ground in an attempt to kick the legs out from under his opponent, who quickly stumbles backwards and to his own shock falls into the hole.
The crowd roars louder as the man left standing leans over the edge and cringes. Shortly after three attendants enter the arena to declare him the winner and escort him and the loser out of the arena.
A few moments later another attendant enters the room Atsuko is in, smiling shyly. "Excited?" he asks and clears his throat as he walks up to the door, waving his hand before a panel on the wall. "Your opponent looks tough. I wish you the best of luck." he says as the door swings open.
Atsuko has joined.
Characters competing in the Arena will be separate from the main post to conserve time.
In the Arena you will be fighting 1 on 1 with another opponent.
This category is Unarmed Combat meaning; No Weapons, No Magic.
First to get knocked out cold or stay on the ground for 10 seconds loses.
The winner will be rewarded at the end of the fight, and receive a bonus based on the winstreak of their opponent.